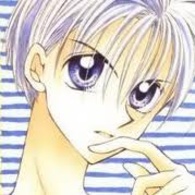 Chiaki Nagoya
(名古屋 稚空) is one of the main characters of
Kamikaze Kaitou Jeanne
. He is the 16-year-old new student in
Maron's
school and also happens to move in right next door to her apartment. Chiaki also knows about Maron being
Kaitou Jeanne
and her mission but he has a secret of his own. He transforms into
Kaitou Sinbad
and is determined to beat
Jeanne
in her quest.
Welcome to Kamikaze Kaitou Jeanne Wiki!Edit

Hello and welcome to the Kamikaze Kaitou Jeanne Wiki. This is a place for fans of the Kamikaze Kaitou Jeanne manga by Arina Tanemura and the anime of the same name. I hope you enjoy your stay here and feel free to help by adding a few pages or editing any of the existing ones.




You can either login or sign up.












Ad blocker interference detected!
Wikia is a free-to-use site that makes money from advertising. We have a modified experience for viewers using ad blockers

Wikia is not accessible if you've made further modifications. Remove the custom ad blocker rule(s) and the page will load as expected.